Outpatient antibiotics widely prescribed without an infection diagnosis
Chris Dall | News Reporter | CIDRAP News | Oct 16, 2018
Several studies in recent years have documented a significant amount of inappropriate antibiotic prescribing in outpatient settings for respiratory infections that are generally caused by viruses and don't require antibiotics. In emergency rooms, doctor's offices, and urgent care clinics, anywhere from a third to nearly half of the antibiotics prescribed for coughs, sore throats, and other respiratory ailments have been found to be unnecessary.
Jeffrey Linder, MD, MPH, a general internist at Northwestern University Feinberg School of Medicine, says that those studies, which have focused on the type of ailments that drive people to visit a provider, have revealed only one aspect of the problem.
"The way we've been looking at outpatient antibiotic prescribing, only focusing on in-person visits and only focusing on a restricted number of diagnoses, has been missing a lot of antibiotic prescribing," he told reporters today at IDWeek 2018.
Linder was presenting the results of a new study, conducted with researchers from the University of Michigan Medical School and Harvard Medical School, that found that 46% of antibiotics prescribed at 514 outpatient clinics were prescribed without an infection-related diagnosis. Even more troubling, 20% of all antibiotic prescriptions were given to patients without an in-patient visit.
"You should almost never get an antibiotic without being seen for conditions like a cold or the flu, symptoms like a cough or a sore throat," he said. "There are things that we as doctors need to do, particularly for coughs and sore throats, to determine whether an antibiotic is actually indicated or not."
Diagnostic codes and infection-related diagnoses
Using the electronic health record system of an integrated health delivery system, the researchers evaluated 509,534 antibiotic prescriptions made to 279,169 unique patients by 2,413 clinicians. They then sorted those prescriptions into three baskets, based on the same-day diagnostic code associated with the prescriptions. The idea was to see whether there was a diagnostic code that could explain why an antibiotic was prescribed.
Prescriptions were considered infection-related if they were associated with a diagnostic code that may signify an infection, while prescriptions linked to diagnostic codes that do not signify an infection were considered non-infection-related. The third basket was prescriptions associated with no diagnosis.
The researchers found that 54% of the prescriptions were for infection-related diagnoses. Of the 46% without an infection-related diagnosis, 29% were non-infection-related and 17% were associated with no diagnosis. Linder explained that some of the antibiotics prescribed for non-infection-related diagnoses were for viral rather than bacterial infections. But in others, the diagnostic codes were "completely irrelevant" to antibiotic prescribing, indicating conditions like hypertension or signifying an annual wellness visit.
Recognizing that not all prescriptions are written on the day the diagnosis is recorded in the electronic health record, Linder and his colleagues expanded their analysis to include diagnoses made 30 days before and 30 days after a prescription was written. Even then, they still found that 35% of prescriptions had no infection-related diagnostic code.
Linder suggested that part of the problem could be attributed to sloppy diagnostic coding that doesn't accurately reflect what happened during a patient's visit with a provider. But he doesn't think that diminishes the findings. "Even if it's bad record-keeping, it's a significant problem," he said.
Linder also acknowledged that some of the 54% of prescriptions associated with infection-related diagnoses were for viral conditions like sinusitis and probably didn't require an antibiotic. "We were very forgiving to doctors in terms of what we considered appropriate," he said.
The most common antibiotic classes prescribed were penicillins (30%), macrolides (23%), cephalosporins (14%), fluoroquinolones (11%), tetracyclines (10%), and sulfonamides (6%).
Prescriptions without in-patient visits
Of the 20% of antibiotic prescriptions outside an in-person visit, half (10%) were prescribed over the phone, 4% were simply entered into the electronic health record, 4% were refills, and 1% were made through an online portal.
Linder said there are cases where getting an antibiotic without seeing a physician is appropriate, citing women with recurrent urinary tract infections and teens taking antibiotics for acne as examples. "There is an example where people might call in, not be seen in person, and an antibiotic prescription might be reasonable," he said.
But he was particularly concerned that 4% of antibiotic prescriptions that didn't involve a visit were refills. While getting refills over the phone for chronic medications, like blood pressure or cholesterol medicine, is common, Linder said the system shouldn't enable refills for antibiotics. "It's a little concerning that we see a refill for an antibiotic prescription," he said.
For those who may think getting an antibiotic without seeing a doctor isn't a big issue, Linder warned that indiscriminate antibiotic use can promote antibiotic resistance. He also stressed the potential adverse reactions to antibiotics, from allergic reactions to diarrhea to Clostridium difficile infection.
Linder said the study indicates the problems with outpatient antibiotic prescribing, which accounts for 80% of all antibiotic prescribing in healthcare, run much deeper than previously understood, and illustrate how much antibiotics have been taken for granted. He called for providers to take a more "righteous" attitude about antibiotics.
"We've been pretty cavalier about the use of antibiotics, not appreciating the harms as much as possible and not educating patients as much as we should," Linder said. "I'm not anti-antibiotic, but I would like us to use them responsibly so we can use them effectively when indicated."
Linder said the next steps will be to go through the data more carefully to understand what was happening in the three categories of prescribing and to look at provider notes in the electronic health record. And they're setting up a prospective study in which they'll call a subset of doctors within a week of an unexplained antibiotic prescription to get a better understanding of the decision.
The study was funded by the Agency for Healthcare Research and Quality.
See also:
Switching to Symtuza for HIV Maintains High Virologic Suppression Without Drug Resistance
By Marie Rosenthal, MS
IDSE Infectious Disease, October 15, 2018
SAN FRANCISCO—Adults with HIV who are virologically suppressed maintained that suppression and low virologic failure after switching to darunavir/cobicistat/emtricitabine/tenofovir alafenamide (D/C/F/TAF) (Symtuza, Janssen Pharmaceuticals), according to a new report.
The researchers reported 96-week data from the ongoing phase 3 EMERALD study, an international multicenter randomized, open-label, parallel-group, noninferiority study evaluating the efficacy and safety of switching to D/C/F/TAF versus continuing with a boosted protease inhibitor (lopinavir/ritonavir, atazanavir or darunavir boosted by either ritonavir or cobicistat) plus emtricitabine/tenofovir disoproxil fumarate in adult HIV-1 infected patients with viral loads of less than 50 copies/mL for two months or more, and who had no more than one viral load of 50 copies/mL or more and less than 200 copies/mL within 12 months before screening. The study was presented at IDWeek 2018 (abstract 1768).
The primary end point of the trial was the proportion of patients with virologic rebound (confirmed viral load ≥50 copies/mL or premature discontinuation with last viral load ≥50 copies/mL) cumulative through week 48 (noninferiority margin, 4%) (IDWeek 2017; abstract 1689b).
Secondary efficacy end points were protocol-defined virologic rebound from baseline through week 96 in the D/C/F/TAF group and from switching through week 96 in the late-switch group.
The participants in EMERALD included patients who may have experienced previous virologic failure and/or may have resistance to emtricitabine. D/C/F/TAF was well tolerated, with 2% of patients (14/763) having a study drug–related grade 3 or 4 adverse event (AE) and 2% (17/763) experiencing AE-related treatment discontinuation over 96 weeks.
Of 1,141 randomly assigned and treated patients in the 48-week analysis, 1,080 continued in the 96-week extension phase. In this phase, reported at this year's IDWeek, patients in the D/C/F/TAF arm continued on the same treatment while patients in the bPI plus F/TDF arm were switched to D/C/F/TAF at week 52 (44 weeks of D/C/F/TAF exposure) until week 96, with study visits every 12 weeks.
Through 96 weeks, 24 of 763 patients (3.1%) had cumulative virologic rebound in the D/C/F/TAF group. Virologic suppression and virologic failure rates were 91% (692/763) and 1% (nine of 763), respectively, at week 96 (viral load <50 copies/mL; virologic failure ≥50 copies/mL). No darunavir, primary protease inhibitor, tenofovir or emtricitabine resistance–associated mutations were seen post-baseline.
D/C/F/TAF was well tolerated over 96 weeks in the treated group. The most common AEs in the extension period were upper respiratory tract infection, viral upper respiratory tract infection, diarrhea, headache and back pain. Improvements in renal and bone parameters were maintained in the D/C/F/TAF group during the 96-week period.
In the late-switch group, after 44 weeks of D/C/F/TAF exposure, the virologic rebound rate was 2.3% (eight of 352). In this group, the virologic suppression and virologic failure rates were 94% (330/352) and 2% (six of 352), respectively, at week 96 (per FDA-Snapshot). Over 44 weeks, in the late-switch group, 6% (21/352) and 2% (seven of 352) rates of serious AEs and AE-related discontinuations, respectively, occurred with D/C/F/TAF. Improvements in renal and bone parameters were seen in the late-switch group over 44 weeks, with a small change in the ratio of total cholesterol to high-density lipoprotein cholesterol, consistent with the known effect of switching from tenofovir disoproxil fumarate– to tenofovir alafenamide–based regimens.
"The 96-week results from the EMERALD study demonstrate that D/C/F/TAF can offer clinically appropriate people living with HIV a single-tablet option that may help them maintain high rates of virologic suppression over time," said Joseph Eron, MD, a professor of medicine and director, Clinical Core, University of North Carolina Center for AIDS Research, in Chapel Hill, N.C.
This 96-week extension study reinforced the long-term efficacy, resistance and safety profile of D/C/F/TAF as a treatment for virologically suppressed adults with HIV-1.
The FDA approved D/C/F/TAF, a single-tablet regimen, on July 17, 2018.
HPV Vaccine Expanded for People Ages 27 to 45
October 15, 2018
The HPV vaccine, which prevents cervical cancer and other malignancies, is now approved for men and women from 27 to 45-years-old, the Food and Drug Administration said on Friday.
The vaccine is Gardasil 9, made by Merck, and had been previously approved for minors and people up to age 26.
It works against the human papillomavirus, HPV, which can also cause genital warts and cancers of the vulva, anus, penis and parts of the throat. The virus has many strains. It is sexually transmitted, and most adults encounter at least one strain at some point in their lives. The vaccine protects against nine strains, including those most likely to cause cancers and genital warts.
"Today's approval represents an important opportunity to help prevent HPV-related diseases and cancers in a broader age range," Dr. Peter Marks, director of the F.D.A.'s Center for Biologics Evaluation and Research, said in a statement.
The approval was based on a study in women ages 27 to 45, showing that an earlier version of the vaccine was highly effective in preventing persistent HPV infection, genital warts, vulvar and vaginal precancers, cervical precancers and cervical cancers related to the virus types covered by the vaccine.
The vaccine's effectiveness in men ages 27 to 45 is inferred from the data in women, from its efficacy in younger men and from evidence that it created immunity in a study of men 27 to 45-years-old.
The most common side effects of the vaccine include soreness at the injection site, swelling, redness and headaches.
If a person has already been exposed to a particular strain of HPV, the vaccine will not work against that strain. For that reason, vaccination has been strongly recommended for young people before they become sexually active.
But even someone who has already been exposed to a few strains — but not to all nine in the vaccine — can still gain protection against the strains they have not encountered.
"This is great," Dr. Lois M. Ramondetta, a professor of gynecologic oncology at MD Anderson Cancer Center in Houston, said in an interview. "It's a prevention vaccine. The best time to get it is before you turn 13 and have any intimate activity at all. But, that said, it protects against nine types of HPV, so if you have one of the types, you still can be protected from other HPV types."
She added: "There is a whole generation of people we were missing who didn't know about it. Doctors weren't good at talking about it."
She and Dr. William Schaffner, an infectious disease expert at Vanderbilt University, said people over 26 began asking doctors about the vaccine. Some were leaving marriages or monogamous relationships, expected to begin dating and realized they might be exposed to the virus.
"They want to feel protected to some extent," Dr. Ramondetta said. "Now they have the opportunity."
Younger people need two shots, but the older ones will need three, spaced a few months apart.
Dr. Ramondetta noted that tumors affecting part of the throat — called oropharyngeal cancers — caused by HPV are rising, particularly in men. The vaccine is believed to help prevent them.
Dr. Schaffner said a panel that advises the Centers for Disease Control and Prevention has already been discussing the data on using the vaccine in older people, and is expected to make a recommendation about it. The recommendation could be universal, meaning that everyone in that age range should receive it, or it could be "permissive," meaning that the decision is up to doctors and patients.
Once that group, the Advisory Committee on Immunization Practices, recommends a vaccine, insurers generally cover it.
New details of HIV life cycle
October 15, 2018
Research by a multi-institutional team, including two members from the University of Delaware, has revealed new details about the HIV virus capsid structure and how it develops.
A capsid is a protein shell that encloses a virus's genetic blueprint.
The study, led by Cornell University scientists, was published Aug. 1 in the journal Nature and focused on the role of a naturally occurring, small molecule called IP6. The researchers found that IP6 plays an important part in both the immature and mature phases of the HIV life cycle as the virus assembles its structure.
"This small molecule acts in two different assembly steps in the pathway," said Robert Dick, a postdoctoral researcher at Cornell and the first author of the paper. "A cell can make millions of virus particles, but if they don't go through the maturation process, they are not infectious."
The discovery of the key role played by IP6 "opens a door for development of new treatments" that would target that molecule, said Juan R. Perilla, assistant professor of chemistry and biochemistry at the UD.
Perilla and UD doctoral student Chaoyi Xu, who are co-authors of the paper, conducted computational and analytical work for the research project, using supercomputers to model the capsid of the HIV virus and the role of IP6 in its assembly.
"Many experimental techniques are just a snapshot," Perilla said. "With the computational microscope [the use of laboratory data in combination with supercomputers], you can actually see how things move."
Perilla and Xu ran their simulations through the Extreme Science and Engineering Environment (XSEDE) project funded by the National Science Foundation, which allocates supercomputer resources to specific research problems. The computers they used were housed at the Pittsburgh Supercomputing Center and the Texas Advanced Computing Center.
Perilla's research team at UD has done similar types of simulations and analysis on other aspects of HIV and on the hepatitis B virus. The researchers have also investigated other retroviruses, in addition to HIV, including equine and poultry viruses.
"Just as we found that HIV uses IP6 to develop and become infectious, we want to learn how retroviruses in general 'learned' to use these kinds of molecules," Perilla said. "Viruses always evolve, but this particular mechanism is especially important.
"When did it evolve? It's a question we haven't answered yet."
Story Source:
Journal Reference:
Robert A. Dick, Kaneil K. Zadrozny, Chaoyi Xu, Florian K. M. Schur, Terri D. Lyddon, Clifton L. Ricana, Jonathan M. Wagner, Juan R. Perilla, Barbie K. Ganser-Pornillos, Marc C. Johnson, Owen Pornillos, Volker M. Vogt. Inositol phosphates are assembly co-factors for HIV-1. Nature, 2018; 560 (7719): 509 DOI: 1038/s41586-018-0396-4
First U.S. Failure of Truvada as PrEP Is Reported at IDWeek
October 5, 2018
A poster presentation at IDWeek, a yearly conference held by the Infectious Diseases Society of America, revealed that a 21-year-old Latinx man has acquired HIV despite consistently high adherence to pre-exposure prophylaxis (PrEP). This new report is unique for several reasons, primarily because this is the first known HIV seroconversion with verified adherence to PrEP in the U.S.
According to the report, the man initiated PrEP through a city health clinic in San Francisco. He was confirmed as HIV negative at the time he started the drug through rapid antibody testing and HIV RNA testing. He returned for follow up visits and was confirmed HIV negative at months three, six, and 10, again by antibody and RNA. Upon return at month 13 in early 2018, he tested HIV negative on a rapid test but positive with 559 copies/mL on an RNA test. A secondary test soon confirmed he was HIV positive with 1544 copies/mL. He was immediately initiated on emtricitabine/tenofovir alafenamide (Descovy), dolutegravir (Tivicay), darunavir (Prezista), and ritonavir (Norvir), and according to Robert Grant, M.D., M.P.H., of the University of California San Francisco, he has consistently maintained a suppressed viral load ever since.
The researchers were able to do identify that the man had a strain of HIV containing reverse transcriptase mutations L74V, L100I, M184V, and K103N. This suggests that he acquired a strain of HIV from a partner who used certain HIV drugs in the past but was not currently taking them. The patient's primary male partner was reported as living with HIV, not connected to medical care, and living with a strain of HIV resistant to the same mutations as the patient's strain. Upon learning of this occurrence, the partner was re-linked to care and found to have a viral load of 15,000 copies/mL at his first visit. It is not clear whether the partner would have returned to treatment if the patient had not tested positive.
Next, researchers sought to understand how this transmission occurred. Did it take place because a resistant strain of HIV broke through PrEP's protection? Or did issues of non-adherence make the patient more susceptible to acquiring this strain?
To learn this answer, researchers evaluated adherence by plasma, dried blood spotting, and hair sampling. According to Grant, "[The patient's] long hair allowed us to test by centimeters, which allowed us to go back and read drug levels from six months ago." From these measurements, researchers could see that the patient had used PrEP with strong consistency over the six-month period prior to his initial HIV-positive result. In other words, there is no doubt he had the maximal protection PrEP offers at the time of seroconversion, confirming that the resistant strain broke though.
As mentioned above, this case is unique as it is the first time a breakthrough case has been documented in the U.S. Since the U.S. Food and Drug Administration's approval of PrEP in 2012, over 180,000 people in the U.S. have used the drug without incidence. In two previous cases of seroconversion while on PrEP, it had been determined that the patients had strong adherence in the 90 days prior to testing HIV positive, but not that they were using the drug at the time of seroconversion, nor that they were confirmed HIV negative when they initiated PrEP. In no previously verified instance has a person in the U.S. acquired HIV under these circumstances.
So, what does this mean for PrEP's efficacy and viability in ending HIV transmissions? Very little, as Grant noted. "We know PrEP is greater than 99% effective," he said. "There are some cases where HIV will break through. We only have a handful of cases now, and next year, we'll probably have a handful more. Fortunately, these cases are caught early, treated, and suppressed quickly. The person goes from taking one pill a day to one pill a day. The biggest difference is stigma."
As a PrEP user myself, I admit that reading about this lends me pause. Is daily use really protecting me from HIV? Do I have a rational reason to be afraid? Will I be the next nameless patient presented on a poster board at a scientific convention on diseases? Then, I remind myself that if these transmissions were commonplace, we would have seen a lot more of them. If these resistant strains so easily "broke through" PrEP's 99% protection, we would have seen clusters of cases reported in 2015 in Toronto, where this initially occurred, and we'd be seeing a lot more of these events in San Francisco after this latest report.
However, instead of hearing about masses of HIV transmissions, PrEP seroconversions with verified adherence remains limited to three individuals in the world: one each in Toronto, San Francisco, and Amsterdam (the latter of which did not happen as a result of a resistant strain). With more than 356,700 people currently using PrEP worldwide, three cases still places HIV's protection at much greater than 99%. Or as Grant said: "We talk about these rare cases when they happen. It's not as sexy to talk about all the cases where that didn't happen, and how well PrEP protected people under the same exact circumstances."
While writing this article, I received an alert that the U.S. Centers for Disease Control had reported that 80,000 deaths in the U.S. were attributed to the flu during the 2017-2018 season. I use this as a reminder that HIV transmissions on PrEP are scary, yet infinitesimal compared with other dangers in the world. Instead of fearing and stigmatizing sexual connections, perhaps we can learn from these reports how to mitigate risk, practice reasonable caution, and increase empathy for others. Or, as Grant reflected: "Maybe we can use these cases to talk about reducing stigma and loving people living with HIV. It is really sweet when people enjoy sex, whether or not there is HIV present. That is humanity's real victory over HIV."
Fixed-Dose Doravirine Combination Non-Inferior in Treatment-Experienced Patients
October 9, 2018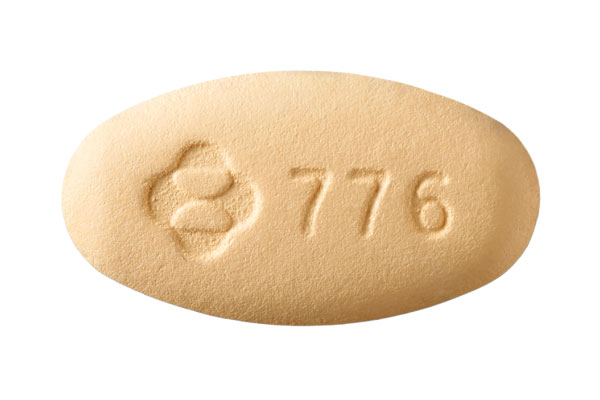 Doravirine/Lamivudine/Tenofovir Disoproxil Fumarate (Delstrigo) (Credit: AIDSinfo)
A fixed-dose combination regimen containing the newly approved antiretroviral doravirine (Pifeltro) was non-inferior to other triple combination therapies in participants who switched from their current regimen to the new drug, announced Merck, doravirine's manufacturer, at IDWeek 2018 in San Francisco. The once-daily pill Delstrigo contains doravirine, lamivudine (3TC, Epivir) and tenofovir disoproxil fumarate (Viread). Principal investigator Princy Kumar, M.D., of Medstar Georgetown University Hospital, Washington, D.C., presented the data.
All 670 study participants were durably virally suppressed (viral load less than 40 copies/mL for at least six months) on a stable regimen of two nucleoside reverse transcriptase inhibitors plus a boosted protease inhibitor, a boosted elvitegravir (Vitekta), or a non-nucleoside reverse transcriptase inhibitor. They were randomized 1:2 to immediately switch to Delstrigo or continue for 24 weeks on their current regimen and then switch to the study drug. The entire study ran for 48 weeks.
At week 24, viral suppression rates (less than 50 copies/mL) were similar between the immediate-switch arm (93.7% of participants in that arm) and the deferred-switch arm (94.6%). By week 48, 90.8% of those who had immediately changed regimens were still virally suppressed. That result was compared with the 94.6% who were virally suppressed at week 24 on their baseline regimens (i.e., before participants in that arm switched to the new drug). The difference of -3.8% fell within the pre-defined -8% non-inferiority margin. Forty-eight-week data on viral suppression in the delayed-switch arm were not reported in the abstract or press release.
Lipid levels were significantly better among the immediate-switch arm compared with those in the deferred-switch arm who took a ritonavir (Norvir)-boosted protease inhibitor (PI). Fasting low-density lipoprotein dropped by 16.5 mg/dL in the study drug group compared with 1.9 mg/dL in the PI group. Similarly, non-high-density lipoprotein fell by 24.7 mg/dL on Delstrigo versus 1.3 mg/dL on the PI. Tenofovir disoproxil fumarate, one of the study drug's components, is known to reduce lipid levels.
After 24 weeks, more participants on Delstrigo had dropped out of the study due to adverse events (2.5%) than had those still on their baseline regimens (0.4%). The most common complaints in both arms and at both 24 and 48 weeks were nasopharyngitis and headache. Drug-related headaches occurred in 0.4% of participants on their baseline regimen, 1.6% of those who immediately switched to the new drug, and 2.4% of those who switched later.
The non-inferiority shown in this trial means that Delstrigo is an option for people who need to switch their HIV regimen, concluded George Hanna, M.D., of Merck in a company press release.
Follow Barbara on Twitter: @reliabletran.
Neurological Conditions More Likely Among Children Exposed to Efavirenz in Utero
October 5, 2018
Eric Daar, M.D., and Claudia S. Crowell, M.D., M.P.H., at IDWeek 2018 (Credit: Sony Salzman)
The advent of antiretroviral therapy (ART) has undoubtedly protected more than a million children from mother-to-child HIV transmission during pregnancy, but new data presented at IDWeek 2018 in San Francisco cast doubt on the safety for babies in utero of regimens containing efavirenz (Sustiva, Stocrin) and dolutegravir (Tivicay, DTG).
Specifically, efavirenz use was associated with a 60% increased risk of neurological conditions in children, according to data presented by Claudia S. Crowell, M.D., M.P.H., assistant professor of pediatrics at the University of Washington and Seattle Children's Hospital.
Researchers also found a link between a second drug, dolutegravir, and neurological conditions, although this was less conclusive.
The research presented in San Francisco may change attitudes toward efavirenz, which was previously considered safe based on studies with newborns. However, Crowell's study draws on a larger cohort of children from the ongoing SMARTT study who were evaluated for long-term neurological conditions.
She and her colleagues found that neurological conditions manifested later in life, which is perhaps why they had been previously missed. On average, children were two years old when neurological conditions were detected.
The study included 3,747 children born to HIV-positive mothers, a majority of whom had been exposed to ART before birth. Of these children, 237 were diagnosed with some sort of neurological condition, including microcephaly, seizures, and eye problems.
Nearly one out of every 10 babies born to mothers taking efavirenz later developed neurological birth defects, compared with one out of 16 babies born to mothers taking other ART regimens.
"Children who were born to women who receive efavirenz-containing antiretrovirals in pregnancy were 60% more likely to be diagnosed with a neurological condition than women who received an ART regimen that did not contain efavirenz," Crowell said. "This was after adjusting for other potential risk factors."
Although efavirenz is not recommended as a first-line treatment, current guidelines suggest that women who become pregnant while on efavirenz-containing regimens should continue to take that regimen if it's well tolerated, Crowell explained.
Crowell and her colleagues also found a link between dolutegravir and long-term neurological conditions among children. In that case, about one out of every 23 children developed a neurological condition, but the number of mothers who took dolutegravir was so small (only 94 total) that this data wasn't necessarily conclusive, Crowell said.
However, this research builds on a growing body of evidence that certain ARTs may increase the risk of birth defects. For example, a groundbreaking study from Botswana published earlier this year found more definitive evidence that dolutegravir increases the risk of neural tube birth defects.
This finding prompted the U.S. Food and Drug Administration and other government agencies to issue public health warnings.
But as recent data sets off safety alarms for additional drugs — including dolutegravir and efavirenz — doctors are calling for more research into the appropriate use of ARTs during pregnancy.
Recent data has "re-ignited the interest in understanding what will happen to women and their babies," said Eric Daar, M.D., chief, Division of HIV Medicine at Harbor-UCLA Medical Center.
Unfortunately, Daar added, there's no safe way to test this risk in a well-controlled scientific experiment. Instead, the research is happening in the real world, among women and children who have already been exposed to ARTs that could potentially cause birth defects.
"We still haven't, as a whole, determined what the best ART regimen for use in pregnancy is, so we have to continue to study this," said Crowell.
Sony Salzman is a freelance journalist reporting on health care and medicine, who has won awards in both narrative writing and radio journalism. Follow Salzman on Twitter: @sonysalz.
Liver Transplant From HIV-Positive Living Donor to Negative Recipient: Key Ethical Issues
October 4, 2018
South Africa has a dire shortage of organ donors. This means that doctors struggle to find suitable donor organs for critically ill patients who would die without receiving a transplant. Sometimes they have to make tough calls such as using a blood group incompatible organ to save a patient's life — even if this comes with additional risk.
About a year ago we made a tough call of our own: we could save a child's life by giving the child a liver transplant — but risked infecting the child with HIV in the process. The donor was the child's mother, who is HIV positive and the child was HIV negative. The procedure came with a risk of transmitting HIV to the child.
South Africa's law does not forbid the transplantation of an organ from a living HIV positive donor to an HIV negative recipient, provided that a robust informed consent process is in place. But this isn't universally accepted as best clinical practice because of the risk of HIV transmission to the recipient.
The young recipient had been on the organ donor waiting list for 181 days. The average time on the waiting list in our transplant programme is 49 days. The child's mother had repeatedly asked if she could donate a part of her liver, but we could not consider this because it was against the policy in our unit at the time. Without a transplant, the child would certainly have died.
After much consideration, and with permission from the Medical Ethics Committee at Johannesburg's University of the Witwatersrand, we decided to go ahead with the transplant. With careful planning we were able to give the child antiretroviral drugs in advance, with the hope of preventing HIV infection.
The transplant, which happened at the University of the Witwatersrand's Donald Gordon Medical Centre, was a success. The child is thriving, but at this point we are unable to determine the child's HIV status. In the first month after the transplant we detected HIV antibodies in the child and it looked like HIV infection might have taken place. But as time went by the antibodies declined and are now almost undetectable. We have not been able to work out for certain whether the child has HIV or not. Even with ultra-sensitive, specialised testing, we have not been able to detect any HIV in the child's blood or cells.
It will probably still be some time before we can be sure. However, the child is doing very well on antiretroviral treatment. And we know from cases where HIV was transmitted inadvertently that people who get HIV from an organ transplant do as well as those who get an HIV-negative organ.
This operation could be a game changer for South Africa. The country has a large pool of virally suppressed HIV-positive people who have previously not been considered for living liver donation. Viral suppression is when a person with HIV takes their antiretroviral medication as prescribed and their viral load — the amount of virus in their blood — is so low that it is undetectable.
Ethical and Legal Considerations
Organ transplant comes with many ethical and legal challenges. In this case, some unique and complex issues were carefully considered.
We took great care to consult widely before doing the transplant. This included speaking to the members of the transplant team, bioethicists, lawyers, experts in the field of HIV medicine and Wits University's Medical Ethics Committee. The committee's function is – among other things – to protect patients in medical research, and to make sure doctors are doing procedures for the correct reasons.
It was clear that a transplant was in the child's best interests. The bigger ethical question was whether it was right to deny the mother the opportunity to save her child's life. A fundamental principle of ethics is to treat people fairly. People with HIV should have the same health care options as everyone else.
We, along with the Ethics Committee, agreed that as long as the child's parents understood that there was a risk the child could acquire HIV, it was acceptable to go ahead with the transplant.
Then, to ensure that the child's parents were properly informed and in the best position to make a decision, we used an independent donor advocate. The advocate was not employed by the hospital and their main role was to support the parents by ensuring that they understood exactly what the risks were for the mother as a donor. The advocate also engaged with the transplant team on the parents' behalf, if needed.
In this case, the parents were committed to go ahead with the operation, and had already come to terms with the risk of HIV transmission to their child. They were appreciative that the team were willing to carefully consider this option for them, given that there were no alternatives available and their child was critically ill. We asked both parents to consent to the procedure, as both are responsible for taking care of the child going forward.
Lessons and Opportunities
This operation has shown that doctors can do this type of transplant, and that outcomes for the HIV positive donor and the recipient can be good. It has also created a unique opportunity for scientists at Wits to study HIV transmission under very controlled circumstances.
For now, doctors will not be able to tell parents whether or not their child will get HIV from this type of transplant. This is because this is a single case with many unanswered questions that will hopefully be answered through ongoing research.
Going forward, we will continue to ensure that parents are fully aware of the uncertainty in this situation. All future cases will be part of an ongoing research study that will investigate HIV transmission in children in more detail and the ways in which HIV may or may not be spread through organ transplantation.
PrEP Before and After Sex Worked as Well as Daily PrEP in Preventing HIV, New Study Finds
July 30, 2018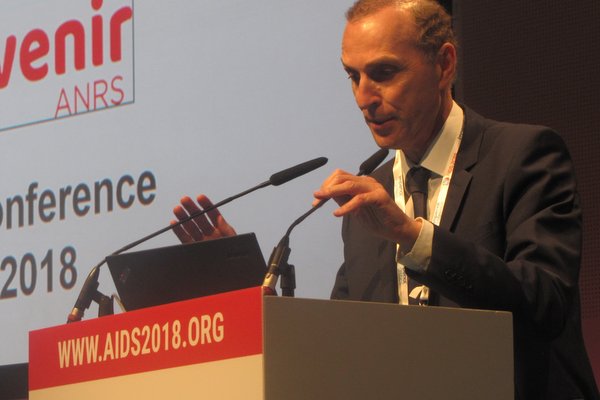 Jean-Michel Molina presents interim results from the Prévenir study at the 2018 International AIDS Conference in Amsterdam, the Netherlands. (Credit: Kenyon Farrow)
People who took HIV pre-exposure prophylaxis (PrEP) "on demand" — that is, before and after sex — were just as likely to prevent HIV infection as people who took PrEP once a day, according to interim results of a study presented at the 22nd International AIDS Conference (AIDS 2018) on July 25. The findings are particularly important for men who have sex with men (MSM), who comprised nearly 99% of the people recruited for the study. Currently, the U.S. Food & Drug Administration (FDA) has only approved PrEP as a once-daily pill.
The interim data were presented by the study's lead author, Jean-Michel Molina, M.D., Ph.D., a professor of infectious diseases at University of Paris Diderot. (The study name, Prévenir, is French for "prevent.") Molina and colleagues enrolled participants and gave them the option of utilizing either the daily or the "on-demand" dosing method for PrEP, with the opportunity to change strategies at any time. The study ultimately aims to enroll 3,000 people in the Paris metropolitan region; these interim results included roughly 1,600 people. Approximately 55% of the participants chose the on-demand option.
At this point in the three-year observational trial stage (May 2017-May 2020), there have been no new HIV infections in either arm of the trial, Molina reported.
"That's remarkable," declared Molina. "[The study] shows that the incidence of HIV in this cohort is zero … averting 85 new infections." The study also has so far yielded a very low rate of volunteers who were lost to follow up or who discontinued their participation, and the number of adverse events did not differ significantly between the two arms. Data on sexually transmitted infection acquisition was not presented; however, 20% of participants reported consistent condom use.
On-demand PrEP, also referred to as intermittent or pericoital PrEP, requires the user to take "2 pills of Truvada [tenofovir/emtricitabine] within 24 to 2 hours prior first sexual intercourse, then 1 pill every 24 hours during the period of sexual activity with one pill after the last sexual intercourse, and one last pill 24 hours later," according to the ClinicalTrials.gov listing for the Prévenir study.
The effectiveness of this regimen of PrEP dosing was previously demonstrated in the IPERGAY study, which was halted prematurely due to a clear, significant reduction in HIV incidence among men who have sex with men (MSM).
Even though it will be another two years before the full results of this study can be revealed, the interm results, along with prior research, have already had an impact on guidelines for PrEP. Several health bodies, including the French government, now support on-demand PrEP as a viable option for HIV prevention, and the International Antiviral Society-USA (IAS-USA) officially endorsed this regimen as an "alternative to daily PrEP for MSM with infrequent sexual exposures" in its newly updated antiretroviral guidelines. This endorsement may have a great impact on PrEP uptake and continued PrEP usage in the U.S., should the FDA and Centers for Disease Control and Prevention (CDC) also update their guidelines for prescribing PrEP.
"The evidence for on-demand dosing of PrEP among gay and bisexual men is strong, and includes randomized clinical trials and carefully monitored clinical practice," Robert M. Grant, M.D., a professor of medicine at the University of California at San Francisco and the chief investigator on iPrEX, one of the initial major clinical trials that showed PrEP to be efficacious at preventing HIV infections, said. "The new IAS-USA guideline is welcome, and will encourage a greater diversity of men to consider PrEP among the ways to enjoy sex and avoid infection."
Earlier this year, the CDC released data showing that only 3% of Latinx and 1% of black people in America who could potentially benefit from PrEP have actually been prescribed the drug. In addition, PrEP use among gay and bisexual men, cisgender women, and transgender men and women of color is low.
Recent studies have explored factors that would help women in the U.S. South and transgender women access PrEP. However, those studies were based on the current daily PrEP guidelines — and some say there are other challenges to making PrEP more accessible than the dosing frequency, even for MSM. "We are still far from reaching the number of people who need to be on PrEP in order to have significant impact on the [HIV] epidemic among MSM," Molina said.
Other experts agree with Molina's sentiment. "That's great that there is support for PrEP on demand, but we will still need to advocate for the policy changes that improve overall access to PrEP services, especially for key populations [and] black gay communities throughout the United States, said Christopher Hucks-Ortiz, M.P.H., who chairs the Black Caucus of the HIV Prevention Trials Network (HPTN). "Unfortunately, too many in our community are either still unaware about the existence of PrEP, or unaware that it could a good option for them. Even still, this is great news for HIV prevention in the United States."
This article was provided by TheBodyPRO. It is a part of the publication The 22nd International AIDS Conference. You can find this article online by typing this address into your Web browser:
http://www.thebodypro.com/content/81187/on-demand-prep-vs-daily-hiv-prevention-prevenir.html
The CHAMP Study: Clues to Natural Control of HIV Infection
By Jeffrey Laurence, M.D.
Dr. Steven DeeksIn the search for an HIV cure–complete eradication of virus in the absence of ongoing antiretroviral therapy (ART)–one interim strategy involves identification of treatments that can induce sustained suppression of the virus, even if it remains present at very low levels.
The feasibility of such an approach is greatly strengthened by the existence of a small number of individuals known as post-treatment controllers, who maintain control of HIV growth after discontinuing ART. Writing in The Journal of Infectious Diseases, amfAR-funded scientist Dr. Steven Deeks from the University of California, San Francisco, with colleagues from eight AIDS Clinical Trials Groups (ACTG), identified such individuals and provided insights into their viral control.
In the CHAMP (Control of HIV after Antiretroviral Medication Pause) study, Deeks and colleagues sought to define the frequency of these post-treatment controllers. Reviewing participants in 14 ACTG studies enrolling over 700 individuals, they identified 67 people, of whom 38 were treated during early HIV infection and 25 during its chronic phase. These individuals maintained viral loads less than or equal to 400 copies at least two-thirds of the time after stopping ART, for a minimum of six months of follow-up.
Post-treatment controllers were over three times more prevalent among those who had started ART early in the course of their infection. But most impressive was the durability of HIV control. After one year, 75% still controlled their virus off ART. After five years, 22% still did. Deeks and colleagues also found that the level of virus at which participants in ART interruption trials restarted ART had a dramatic effect on the frequency of post-treatment controllers. Restarting ART at a threshold of 1000 viral copies would have failed to identify about half of those individuals.
The investigators also noted an unusual pattern: one of the 14 ACTG studies reported a surprisingly high number of post-treatment controllers. That study included cycles of ART treatment interruption, suggesting that the concept of "autovaccination," by which bursts of virus following ART interruption stimulate effective immune responses, should be explored further in HIV cure research.
The authors concluded that "The presence of individuals who can maintain HIV suppression after discontinuing ART provides hope that the goal of sustained HIV remission is possible."
Dr. Laurence is amfAR's senior scientific consultant.
( amfAR, The Foundation for AIDS Research)
Dual Maintenance Therapy With Lamivudine Viable Option
July 16, 2017
A boosted protease inhibitor (PI) combined with lamivudine is a viable maintenance therapy for those who are already virally suppressed, a clinical trial published in The Lancet HIV found.
The trial compared the boosted PI-lamivudine combination to boosted PI monotherapy in 265 people who had undetectable viral loads. Most participants were women, and almost all had the M184V mutation, which confers resistance to lamivudine and is common in Africa.
The monotherapy arm was discontinued after 48 weeks because 33 of the 133 people in this arm experienced treatment failure, compared to four of the 132 people in the lamivudine group. Given the lack of regular viral load monitoring in many low-income settings, study authors do not recommend monotherapy as a low-cost maintenance strategy.
"Dual therapy with boosted protease inhibitor and lamivudine in stable HIV-1-infected patients on second-line [antiretroviral treatment] could be considered as an alternative to triple therapy for selected patients, even despite the presence of M184V mutation at first-line failure," the study authors concluded.
HIV-positive women with cytomegalovirus likelier to pass virus that causes AIDS to infant
July 16, 2017
University of California, Los Angeles (UCLA), Health Sciences
HIV-positive women with cytomegalovirus, or CMV, in their urine at the time of labor and delivery are more than five times likelier than HIV-positive women without CMV to transmit HIV, the virus that causes AIDS, to their infants, according to a UCLA-led study. The research also found that they are nearly 30 times likelier to transmit cytomegalovirus to their infants.
Dr. Karin Nielsen, a professor of clinical pediatrics in the division of infectious diseases at the David Geffen School of Medicine at UCLA, is the senior author of the study, which was published in the journal Clinical Infectious Diseases.
"The findings were surprising because prior studies in healthy pregnant women have not shown an association between CMV detection in urine, or even cervical secretions, and congenital CMV infection," Nielsen said.
The research also found that women who had gonorrhea when they gave birth were nearly 20 times more likely to pass CMV on to their infants. People with healthy immune systems can stave off illness from the virus, but babies infected through their mothers and people with weakened immune systems, such as those with HIV, can experience serious health problems.
CMV can impair fetal growth, and babies born with the virus can have damage to the brain, liver, lung and spleen, as well as hearing loss. People who are otherwise healthy usually do not experience any symptoms, but it can cause fever, sore throat, fatigue and swollen glands. In people with compromised immune systems, however, CMV can affect the eyes, lungs, liver, esophagus, stomach and intestines, according to the Centers for Disease Control and Prevention.
The researchers evaluated 260 pairs of mothers and infants — 222 from the Americas and 38 from South Africa — who were enrolled in a perinatal study by the National Institute of Child Health and Human Development. None of the mothers had used antiretrovirals prior to labor.
After testing the mothers' and infants' urine for CMV, the researchers found that:
2 percent of the women had detectable CMV and 3.8 percent of the infants had the virus.

8 percent of women with detectable CMV had infants with the virus, as opposed to 2.1 percent of women who did not have detectable CMV.

2 percent of women with detectable CMV transmitted HIV to their infant, compared with 8.1 of those who did not have detectable CMV.
Among the study's limitations: The sample size was determined by the availability of urine samples from the mothers, and women in the overall study from which data was drawn were diagnosed with HIV at the time of labor and delivery, so results of the UCLA-led research are not applicable to pregnant women with HIV who are on antiretroviral treatment during pregnancy.
Still, the study "underscores the importance of controlling HIV-infection during pregnancy through use of antiretrovirals in the prevention of both CMV and HIV transmission from mothers to infants," said Dr. Kristina Adachi, a postdoctoral researcher in pediatric infectious diseases in the UCLA department of pediatrics and the study's lead author.
Journal Reference:
Kristina Adachi, Jiahong Xu, Bonnie Ank, D. Heather Watts, Lynne M. Mofenson, Jose Henrique Pilotto, Esau Joao, Breno Santos, Rosana Fonseca, Regis Kreitchmann, Jorge Pinto, Marisa M. Mussi-Pinhata, Glenda Gray, Gerhard Theron, Mariza G. Morgado, Yvonne J. Bryson, Valdilea G. Veloso, Jeffrey D. Klausner, Jack Moye, Karin Nielsen-Saines. Cytomegalovirus Urinary Shedding in HIV-infected Pregnant Women and Congenital Cytomegalovirus Infection. Clinical Infectious Diseases, 2017; DOI: 1093/cid/cix222
HIV drug resistance testing not a priority for resource-limited settings, trial finds
Keith Alcorn
July 16, 2017
Resistance testing is unlikely to improve the effectiveness of second-line HIV treatment in resource-limited settings and the introduction of routine HIV drug resistance testing is not a high priority, investigators from a large international study have concluded in a report in the journal The Lancet HIV.
Instead, their findings and those of other recent research reports point to the need to prioritise adherence support, the scale-up of viral load testing and prompt action when test results show a rebound in viral load.
The findings, from the EARNEST study of second-line antiretroviral treatment in Africa, show that even when people have predicted resistance to two of the three drugs in their second-line drug combination, they are still highly likely to achieve and maintain an undetectable viral load, suggesting that the drugs still exert enough activity to prevent viral rebound.
Resistance testing in lower-income settings
Resistance testing is used in higher-income settings to select drugs for second- or third-line treatment, especially those of the nucleoside analogue class. Resistance testing plays less of a role in choosing second-line treatment regimens nowadays because the greater range of available drug classes makes it easier to put together a regimen of active drugs. Determining a patient's drug resistance profile remains critical after the failure of a second- or third-line drug regimen.
In lower-income settings, resistance testing is used largely for surveillance, to check if drug-resistant virus is being transmitted and to determine the prevalence of resistance to various drugs. Resistance testing requires laboratory conditions that may exist only in central hospitals or research laboratories, so it is not carried out routinely. The cost of a resistance test is also a major barrier to routine use.
The World Health Organization (WHO) has advised that resistance testing is not essential in lower-income settings, and that for the time being, the risk of drug resistance can be monitored at national level by using five early warning indicators: how many people pick up medication on time; how many people are retained in care, and how many are virally suppressed, 12 months after starting treatment; drug stock-outs; and, the proportion of people on treatment who get a viral load test (coverage).
If these measures began to show a rising risk of transmissible drug-resistant virus, countries would be urged to consider changing treatment regimens or taking other steps to minimise the impact of resistance. WHO is drawing up guidance on how to respond to a rise in drug resistance this year.
The EARNEST study and second-line treatment
The EARNEST study compared three approaches to second-line antiretroviral treatment in sub-Saharan Africa. The study compared switching to a ritonavir-boosted protease inhibitor and two nucleoside or nucleotide reverse transcriptase inhibitors (NRTIs), to a boosted protease inhibitor and the integrase inhibitor raltegravir, or protease inhibitor monotherapy following 12 weeks of induction therapy with raltegravir and boosted protease inhibitor.
The study found no significant difference in viral suppression rates between the protease inhibitor + NRTI group and the protease inhibitor + integrase inhibitor group, but found protease inhibitor monotherapy to be inferior to both.
In a further analysis, study investigators have now looked at the impact of having active NRTIs – drugs to which there is no evidence of resistance – in the second-line regimen. The analysis looked at 391 of the 426 people who had received NRTIs in the study and whose baseline resistance data available. On the basis of detectable resistance mutations, the researchers predicted which drugs would be active in the study population. Fifty-nine per cent were predicted to have no active NRTIs available. In 77% of these people, their second-line regimen consisted of tenofovir and lamivudine or emtricitabine. Thirty-three per cent were predicted to have one active drug available, and in 88% of these people, the second-line regimen consisted of tenofovir and lamivudine or emtricitabine.
After almost three years of follow-up, 89% of those receiving a boosted protease inhibitor and no predicted-active NRTIs had a viral load below 400 copies/ml, compared to 81% of those who received a boosted protease inhibitor and raltegravir (both of which should have been active drugs)(p = 0.02). There was no significant difference in viral suppression between people who received one or no active NRTIs (81% vs 89%, p = 0.30). Furthermore, multivariate analysis showed that greater evidence of drug activity (measured by a drug susceptibility score) was associated with a reduced likelihood of viral suppression (odds ratio 0.61, 95% CI 0.46-0.81, p = 0.001).
The findings are surprising but the researchers say they are confident that their findings are robust, due to the large number of participants and the length of follow-up.
A lack of employment was more strongly associated with lack of viral suppression (OR 0.39, 95% CI 0.21-0.72, p = 0.003). So too were non-adherence and higher baseline viral load, after adjusting for other confounding factors.
The researchers say that drugs with predicted resistance are probably still having an effect, for example by prolonged concentrations in cells and because of the impact of some NRTI resistance mutations on HIV's ability to copy itself accurately, without mutations. The development of these NRTI mutations may stop protease inhibitor mutations from emerging, the authors speculate.
Implications
The researchers say that selecting NRTIs that are well-tolerated and easy to take might have more impact than routine resistance testing. They urge the need for "critical thinking around the benefits to be gained, if any, before new elements of care are introduced into the public health approach, even if they are considered as standard practice in high-income settings."
Recently published research from a trial conducted in West Africa, and findings from a study of once or twice-daily dosing in sub-Saharan Africa, India and Brazil, show that drug resistance in both trials was strongly associated with high viral load after failure of first-line treatment. In the second study (PEARLS), just over half of people with one viral load measurement over 1000 copies/ml went on to resuppress their viral load after adherence counselling.
Researchers on the PEARLS study found that a scoring system based on weight, age, time on treatment and the degree of viral rebound would result in only 0.5% of people with rebound being switched to a new regimen unnecessarily. However, the sensitivity of this scoring system was low (28%), which means that around seven out of ten people with drug resistance would experience a delay in switching if the scoring system alone were used. The research group says that its scoring system will allow some people to be switched immediately, without the need for confirmatory viral load testing or adherence evaluation. They say that further research is needed to validate the risk score and to look at the financial and health trade-offs between switching people unnecessarily to more expensive second-line regimens or leaving people on failing treatment for longer.
Scoring algorithm

Age less than 30

1 point

BMI > 25

2 points

< 7 months on treatment

3 points

7-12 months on treatment

2 points

First rebound VL 10,000-100,000 copies/ml

4 points

First rebound VL > 100,000m copies/ml

2 points

If scoring 9 points or above: switch immediately

If scoring below 9 points: review adherence & carry out confirmatory viral load 3-6 months later
Early antiretroviral therapy linked with bone loss in patients with HIV
July 17, 2017
Current HIV treatment guidelines now recommend initiating antiretroviral treatment (ART) at the time of diagnosis. However, a new study has found that such early ART causes greater bone loss compared with deferring ART.
The study followed 399 participants (195 immediate ART and 204 deferred ART) for an average of 2.2 years. Although the study revealed a negative effect on bone density of immediate ART, the overall benefits of ART for preventing HIV transmission and adverse health outcomes prevail. It will be important to understand the long-term consequences of reductions in bone mineral density associated with ART and whether these reductions continue or stabilise with longer therapy.
"What we found was that starting treatment is also associated with accelerated bone loss of about 2-4%, and the rate of decline then appears to slow after the first 2 years of treatment, compared with HIV positive people who deferred treatment," said Prof. Jennifer Hoy, lead author of the Journal of Bone and Mineral Researchstudy. "We have no cure for HIV, so antiretroviral treatment is for life. An increased rate of bone loss may become important years later, in the setting of increased risk of fragility fracture."
Journal Reference:
Jennifer F Hoy Immediate Initiation of Antiretroviral Therapy for HIV Infection Accelerates Bone Loss Relative to Deferring Therapy: Findings from the START Bone Mineral Density Substudy, a Randomized Trial. Journal of Bone and Mineral Research, 2017
Penis bacteria linked to HIV acquisition
July 17, 2017, by Emily Newman
Three large clinical trials—involving thousands of men in Africa—have shown that male circumcision reduces risk of HIV acquisition. The protection afforded by circumcision is high, with efficacy estimates ranging between 50% and 60%. Some researchers estimate that circumcision helps prevent HIV infection for the male partner simply because it decreases the surface area of skin potentially exposed to HIV infection during sex. Other researchers have a different theory, and it involves the bacteria found on our skin.
At the Conference at Retroviruses and Opportunistic Infections (CROI) held last month, Lance Price, from George Washington University presented compelling research supporting a theory linking the penile microbiome (the colonies of bacteria found on the penis) to HIV risk.
"It's likely that the bacteria living on our genitalia can affect our HIV risk. Bacteria, interacting with our immune system, can make us more or less susceptible to HIV," he explained.
The theory is as follows: Men that are uncircumcised tend to have more colonies of bacteria that produce inflammation. Men who are circumcised are less likely to have these types of anaerobic bacteria colonizing the penis. Inflammation, caused by anaerobic bacteria, causes CD4 T-cells to be recruited to the site of inflammation, which then become vulnerable to HIV infection when the virus is present.
Lance showed research comparing the microbiomes between men enrolled in a male circumcision study in Uganda. The researchers compared the types and abundance of penile bacteria among 77 uncircumcised men and 79 circumcised men at baseline between the two groups, and then a year later (one year after people in the circumcision group were circumcised).
In people who were circumcised, the researchers saw a shift in the types of bacteria present—specifically, a significant decrease in total bacterial load, microbiota diversity and microbiota composition. Specifically, the prevalence and absolute abundance of 12 anaerobic bacteria, including anaerobic bacteria like Prevotella and Porphyromonas,were reduced in circumcised men. Circumcised men also had an increase in normal skin bacteria.
"It's pretty intuitive that if you change the environment, the organisms that live there are going to change as well. Here, we removed the foreskin, we decrease anaerobic micro environments, and we make it hard for the anaerobes to live," said Lance.
Lance then explained a case-controlled study of anaerobic bacteria, cytokines (signaling proteins involved in inflammation), and HIV seroconversion. This study, he explained, aimed to determine if there was any association between the types of penile bacteria present, markers of inflammation, and HIV seroconversion. Samples were taken from participants in the two-year male circumcision study conducted in Uganda. Participants were people who seroconverted during the study, each matched to two controls also enrolled in the study.
There were eight penile anaerobes that were significantly associated with the concentration of the inflammatory marker IL-8 (including Prevotella, Dialister, and Porphyromonas). In addition, the odds of HIV seroconversion increased, by 30% to 60%, in the presence of some of these anaerobes, particularly Prevotella and Dialister.
Lance explained that this state, called "anaerobic dysbiosis," which causes an increase in HIV susceptibility, is largely resolved in response to circumcision. Other factors, like increased washing, may also affect the presence and type of bacteria, he explained during the question and answer portion of the talk.